I am holding my first giveaway! I have one copy of The Strangely Beautiful Tale of Miss Percy Parker and one copy of The Darkly Luminous Fight For Persephone Parker-both come with a personalized autograph to you from Leanna Renee Hieber. All you have to do is leave a comment and state which book you would like, and if you had to choose which member of the guard you would be:Heart, Healer, Intuition, Artist, Memory, Leader or Prophecy and why :) an email address for me to contact you at if it's not on you blogger profile page. Winner will be chosen by Random.Org. The giveaway will be open until Saturday May 1st, 2010 12:00am.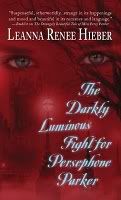 When I interviewed fellow Buckeye Leanna Renee Hieber I hadn't yet read her newest book, The Darkly Luminous Fight For Persephone Parker, so all of my questions are based on her first book, The Strangely Beautiful Tale of Miss Percy Parker.
1. What was the hardest part of writing The Strangely Beautiful Tale of Miss Percy Parker? The easiest?
Hardest: Figuring out
structure
and sequence
when dealing with a large cast of characters
against both a 'realistic' Victorian and a fantastical backdrop
. Easiest: spending time with those characters and falling in love with them
more
every day
.
2. Did you have a series in mind when you wrote book one of Strangely Beautiful Series?
Absolutely. I knew there would be at least three books, but it was only w
ell into my first contract with
Dorchester
that I realized how the next two would break down, into
sequel and then prequel
. It wasn't until I was working
through
Darkly Luminous
that I e
ven realized I had
Strangely Beautiful
#4 in me
, a familial continuation
, and when the idea
s
came, they
couldn't be denied.
3. I love all the characters in Strangely Beautiful-do you have a favorite among them?
Is there one whose story you can't wait to write? Whose story do you think will be the most difficult to write?
Thank you! It's the best feeling in the world when readers love my characters. Alexi and Percy wi
ll always be my favourite and t
heir
unique and complex
dynamic in
Darkly Luminous
defines the reasons
why
. I can't say I'll ever
love a hero/heroine couple in quite the same way I adore them,
they've been with me nearly a decade and time has only made them more dear
.
In October I'll be releasing "A Christmas Carroll" (Strangely Beautiful #2.5) a novella starring Headmistress Thompson and Vicar Michael Carroll. This will appear in
Dorchester
's holiday fantasy anthology A MIDWINTER FANTASY. Rebecca and Michael needed some breathing room to say the least,
and I put them through a dangerous wringer. But it's really good to give them the spotlight, with the whole Strangely Beautiful
cast
(and some returning ghosts like
Constance
)
cheering them on. I've a similar novella in mind for Elijah and Josephine, I really hope I get the chance to write it!
Strangely Beautiful #3, the prequel, is going to be the hardest because I'm dealing with two Guards, divinities, and a lot of information we know from
Darkly Luminous
yet retold with the immediacy of it happening in the moment. I have to make sure that's com
pelling and cohesive as there are so many
people and Whisper-
world elements to keep track of. My work is cut out for me.
4. Are you surprised at how Elijah has seemed to become the fans favorite?
*laugh* No
, though I'm thrilled that he is
because he makes me laugh out loud
. He's such a pain in the ass! His character has become so distinct for me that
a
t this point I just sit back,
take
dictation from him and chuckle
, he ha
s a life of his ow
n and
he's so much fun
.
It's the charming, brazen characters that
usually
get noticed, though I will say Michael has his fans too.
I'll also say that I think Elijah is popular because of how he offsets a
nd plays against Alexi (who I've been told has
become many fans
'
new book-boyfriend and I can't say I fault them their taste). Without Alexi as a foil, Elijah would be far less interesting.
5. How did you decide on the time period of the series? Did you have to do a lot of research for Victorian London?
I've been in love with Victorian London since I first read about it and experienced it, which I believe was
through
Dickens. I was in a production of Oliver Twist at age 9 that made
me a Dickens devotee for life. A
dd in the ghosts of his Christmas Carol and I was hooked. Then I found Poe and other 19
th
century Gothic authors and it was like I'd come home
, they spoke to my soul
and broke open my imagination
.
From
an early age
,
the richness of 19
th
century
language and the fascinating counterpoints of the er
a held me in
thrall; intensely
romantic
yet stoic
an
d difficult
. In college, I decided to embark on a focus study in t
he Victorian Era. T
hat solidified my love-affair, while
giving me a chance to do real academic exploration of the subject.
I
travel
ed
to
London
on scholarship and again on research. T
hose trips were critical to the life of the novels
. It was while I was there th
at I knew I had to incorporate the
Jack the Ripper story into
Strangely Beautiful
and it fit
like a puzzle piece
into the storyline.
The fact that I
adapted works of 19
th
centur
y literature for the stage
was a huge stepping stone i
n making me
comfort
able
with the
language and
vernacular. I do have a library of Victorian resources that I refer to on specifics, but I rely heavily on all of this background and the fantastical invention that's set apart from the 'realistic' time period. My fav
ourite part of the research is always the ghosts. All the ghosts save for
those inside
Athens
are real, documented
London
haunts.
For the background on the ghost stories, you can visit my Haunted London Blog To
ur page on my website and join
in the Darkly Luminous Haunted London blog tour around release week for the real ghost stories I use in
the sequel
and then check out the archives of last year's tour for the rest of the stories
used in
The Strangely Beautiful Tale of Miss Percy Parker
.
6. Is there a music soundtrack that you picture playing along with Darkly Luminous?
While I was writing the book I listened to a lot of Phillip Glass movie soundtracks and very simple piano music by Linford Detweiler. But certain characters have their own theme songs by my favourite electronica Goth band, VNV Nation, based out of the
UK
. For instance, Percy and Alexi's theme is "Beloved"
, Rebecca and Michael's theme is "Suffer"
.
I reference several musical pieces and composers in the books, and I like to have that music on hand when I'm writing, from Mozart's Requiem to Chopin piano preludes, there's certainly a lot of music in their world.
8. What is your favorite genre to read?
The Classics, c
ross-genre fantasy, YA, Victor
ian mysteries and
graphic novel
s
.
9. What is your favorite book?
Can't pick just one! The entire 19
th
century canon of Gothic literature (including Dickens
, Austen
and Hugo for good measure). Plus J.K. Rowling
and Neil Gaiman
.
10.
How do you unwind after a long day of writing?
A glass of wine and a sci-fi show. I'm a Dr. Who fan-girl and as it's the longest running sci-fi show in history, there's a lot
of episodes
to choose from.
Thanks, fellow Buckeye Girl, for this opportunity!